Master Mike Pannulla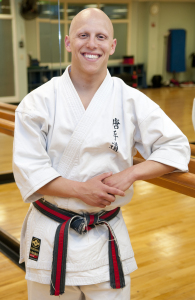 Master Mike Pannulla is the Owner and Head Instructor of Magnus Karate, LLC located in West Chester, PA. Currently he holds the rank of 4th Degree Black Belt in the Korean Karate-Do style of Tang Soo Do (promoted May 2008). Master Pannulla has been a passionate and dedicated student of the arts since October of 1995 under the direction of his teacher and mentor, Sabomnim John McManus. Master Pannulla has also received instruction in Tang Soo Do, Japanese/Okinawan Karate-Do, and Kobudo from Master Lee Clarkson of Milford, DE.
After achieving his fourth degree black belt rank (2008) Master Pannulla spent the following four years traveling and studying with multiple instructors. During his initial time of exploration Master Pannulla was exposed to and trained in Shotokan Karate, Goju Ryu Karate, Shorin Ryu Karate, and Okinawan Kobudo. At the present time he continues to travel and study with like minded martial artists. Master Pannulla has also competed in and won numerous local, regional, national, and international championships during his martial training career.
Master Pannulla is an advocate for allowing students to have the ability to critically think while in the classroom, and believes his purpose as a martial educator is to act as guide and a source of motivation. For this reason he chooses to teach all of the classes that are offered at Magnus Karate each week. He is proud to say that his passions are teaching, studying, and training in Karate on a daily basis. Master Pannulla is a native of the Greater Philadelphia area, living in Coatesville, PA for most of his life.
In 2006, he earned a B.S. in Sport and Recreation Management from Temple University in Philadelphia, PA. Master Pannulla has also studied Physical Education and Health at West Chester University in West Chester, PA. In April of 2013 he married his beautiful wife Jenn. To learn more about Master Mike Pannulla, his philosophies and karate school please visit magnuskarate.com, contact him at [email protected], or call him at 610-416-9620.